Apartment hunting is a thrill that is (unfortunately) rare. There is an exciting feeling of potential and opportunity when searching for your dream apartment.
Apartment searching can be overwhelming if you're unfamiliar with living in an apartment and lack the experience to know what to look for and what to avoid. Thankfully, we've prepared a list of 5 things to look for in your apartment browsing that will help you nail down your perfect fit.
We'll be covering the most important elements of apartment living so you can move into your new apartment feeling fresh and confident in your decision!
Building Amenities
Building amenities are among the most important things to consider when apartment hunting. After all, everybody needs a place to lounge or get active while in the comfort of their own building.
In our view, the most important amenity to look out for is a fully-loaded fitness center. Fitness centers are especially important for apartments in Edmonton as they're perfect for blowing off steam during the snowy winter season.
Further amenities to keep your eye out for include: communal lounge space, a storage facility, and pet accommodation. High-end apartments, such as Le Louvre, typically have unique amenities that you'll struggle to find elsewhere. A golf simulator, kitchen lounge area, and meditation space are just some of the many tasteful amenities you'll enjoy at Le Louvre.
Security Features
Even the safest places need a sophisticated layer of security to ensure that all occupants are safe. There are few things more awful than coming home to a looted apartment or the threat of a home invasion. Make sure the apartments you're viewing have an acceptable standard of security, such as code locks, a security team, and extensive camera monitoring.
Le Louvre residence, the newest apartment building in Century Park, Edmonton, is an outstanding example of a safe and secure environment. You'll never feel at risk in Le Louvre thanks to the extensive security features!
Appliances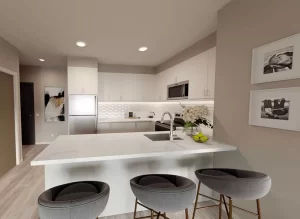 Kitchens are not only tools for making food, they're also a space where people can express their artistic side. Don't limit your diet and creativity with subpar kitchens! Make sure that your future apartment is stocked with all the tools you need to nourish yourself comfortably.
Things to look out for include high-quality fridges and freezers, a full stove and oven, a microwave, a dishwasher, and adequate storage space.
Are you tired of making weekly hikes to the laundromat? Le Louvre includes full-sized washers and dryers in every suite to help you maximize your time. No more hassles!
Staff
The quality of the staff is an element of apartments that is frequently overlooked. Read Google reviews of each place you view to get an idea of what the staff is like. Having friendly, open, and available staff is key to a comfortable living environment.
Century Park is a beautiful area and you can expect attentive and quality service in the #1 apartment in that area, Le Louvre residence.
Walkability
Living out in the middle of nowhere is no fun. Everything is accessible by car only, your friends and family are far away, and you feel disconnected from the world. Make sure that the apartments you're viewing are within walking distance of transportation hubs, food and convenience stores, and other useful brick-and-mortar stores.
Le Louvre in Century Park is a perfect example of an apartment in a walkable neighborhood. The LRT is a short walk away, food is right around the corner, and any other service you need is situated within walking distance of your front door.
Discover Your New Apartment in Century Park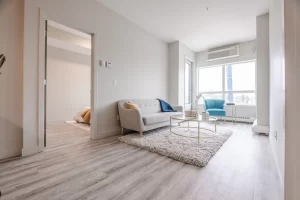 Still looking for an apartment in Edmonton? Stop! Le Louvre residence in Century Park is everything you need to live comfortably and securely. We offer Century Park the highest quality apartments available in all of Edmonton and we're eager to have you as our next tenant. Contact us today to secure your dream apartment!
Browse the apartment gallery on our website – We are confident that you'll find that our apartments set the standard for living quarters in Edmonton. With dedicated security, superb amenities, and friendly staff, there's no reason to liv anywhere else except Le Louvre.