With the arrival of winter comes the onset of seasonal depression. Seasonal affective disorder, more commonly referred to as seasonal depression, is a truly crippling condition that affects people during the harshest months of the year.
While there isn't anything anybody can do about winter's short days and cold temperatures, there is a lot that can be done to mitigate winter's damaging effects on the mind. This can be accomplished by creating a positive mental health space in your apartment that promotes mindfulness and well-being.
The best part? It's incredibly easy! We'll be going over our top renter-friendly apartment decor tips to help you find your inner nirvana while in the comfort of your own home.
De-Clutter Your Apartment
The first step everybody should take on their mindfulness journey is apartment decluttering. Clutter, whether it be books, boxes, or garbage, can exhaust the mind and induce intense feelings of anxiety.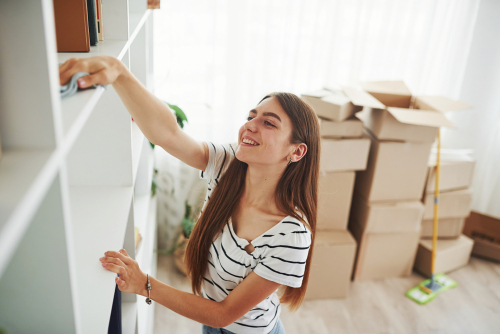 Your brain will try to ignore the clutter because it's a visual reminder that you are disorganized and not in the best state of mind. Thus, clutter encourages negative coping mechanisms like binge-snacking and excessive TV-watching.
Cleaning your apartment should be your first step. It's okay if you aren't able to do it on your own – contact a friend, family member, or neighbour and ask them to help with your mindfulness journey.
Freshen Up With Flora
Plants are proven to help with mood stabilization and negative thoughts. Even just being around them for 20 minutes can make a difference! Putting plants in your apartment will nearly instantly help with mindfulness; not only that, they're great pieces of apartment decor!
You might be wondering, "what plants should I get for my apartment?" Well, any plant from a home decor store will work wonderfully; however, we recommend Peace Lillies, Ferns, Spider plants, and English Ivy. These beautiful plants will give your mind the escape it needs to feel refreshed and ready to tackle any challenges that come!
Designate a Purpose For Each Area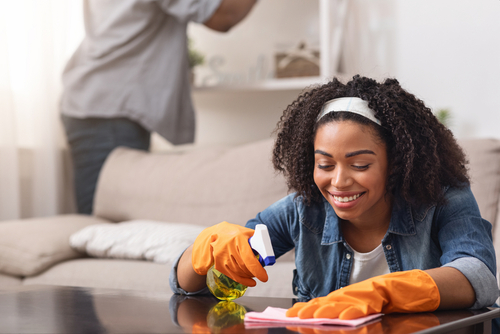 Designing a specific purpose for each space in your home contributes to mindfulness and feelings of well-being because it creates order, structure, and familiarity. Perhaps sometimes you work in the kitchen, eat in bed, or sleep on the couch.
While you can do these things, it severely limits your mind's ability to feel organized and thus at peace. By designating a purpose for each area of your apartment, you'll retain information better, be more productive, and most importantly, you'll have a positive mental health space free of negative energy. High-quality apartments, such as Le Louvre, provide you with this much-needed space – make sure your apartment is the right fit for you!
Perfect Your Lighting
Light is in extremely short supply in winter. Our need for it, however, remains the same. That's why it's incredibly important to make sure you have sufficient lighting in your apartment.
We're not talking about bright and blinding white lights such as those you'd likely find in a doctor's office – we're talking about warm, cozy lights that make you feel calm and at peace. Deep reds and oranges, for instance, will evoke those happy and fuzzy feelings you feel during a warm summer sunset.
Some light bulbs, such as Phillips Hue bulbs, give you complete customization over your apartment's lighting so you can find that perfect shade to accompany you during those snowy nights.
Find Your Personal Heaven With Le Louvre Apartments
Winter doesn't have to be a dreaded season synonymous with depression and negativity. Finding the right apartment to decorate and organize with your personal flair is everything you need to survive the frigid winter in comfort.
Beautiful, high-quality apartment buildings, such as Le Louvre in Century Park, Edmonton, offer everything you need to create your dream mental health space. We take pride in knowing that our spacious apartments, accessible location, and friendly staff provide residents with unmatched comfort and hospitality. Contact our team today to get started on finding your dream apartment!